Retro Typewriter Wireless Keyboard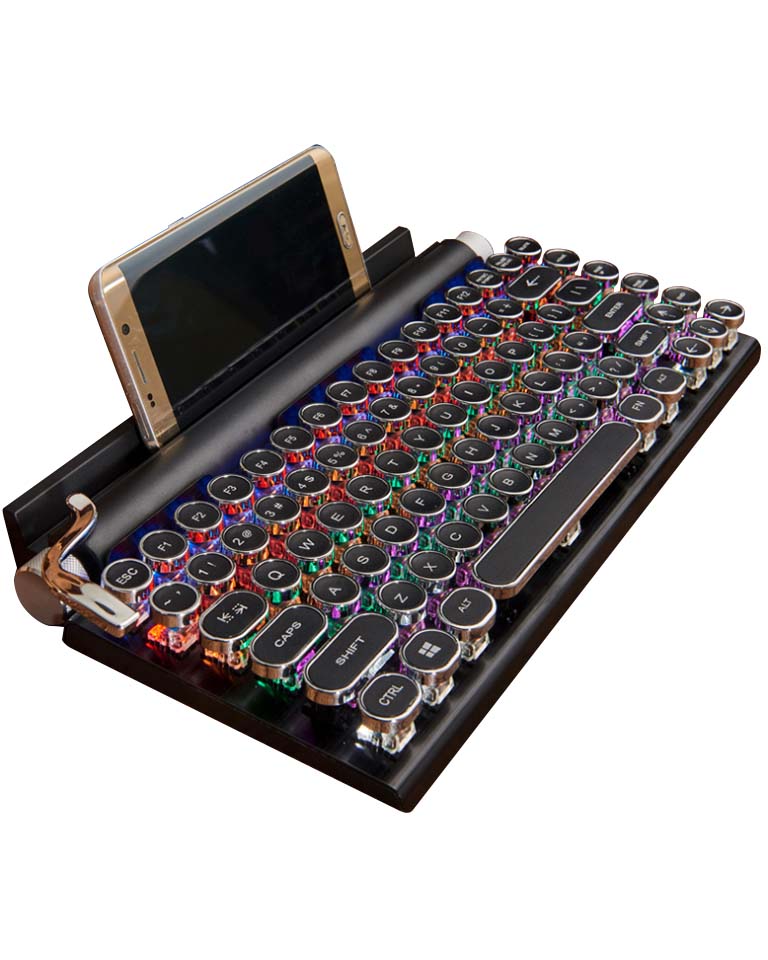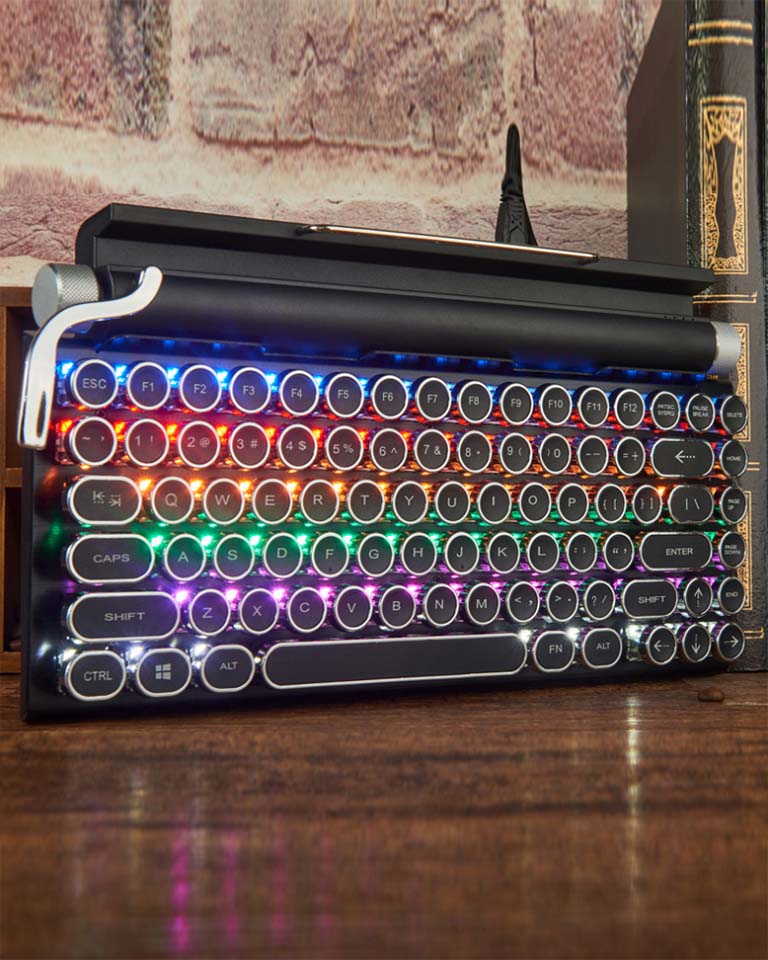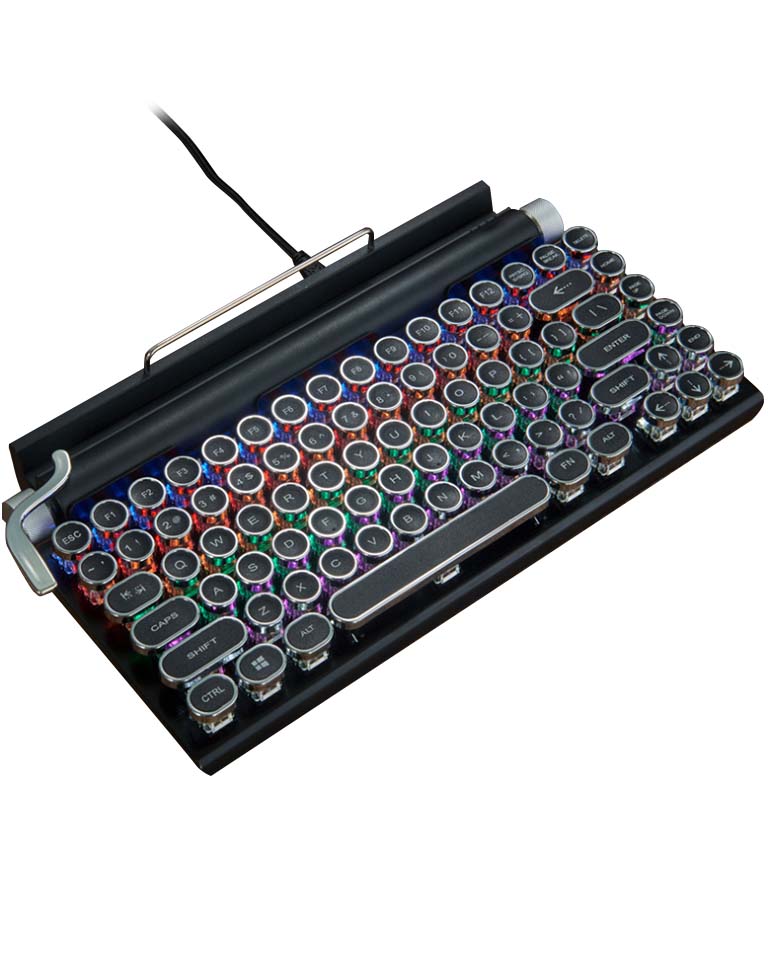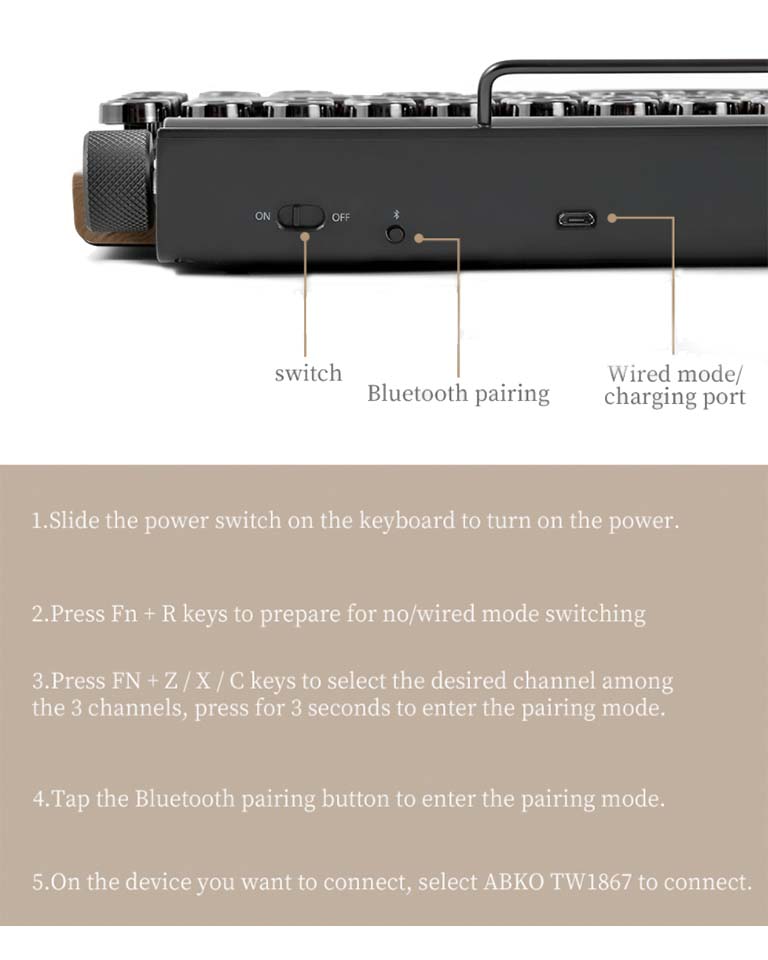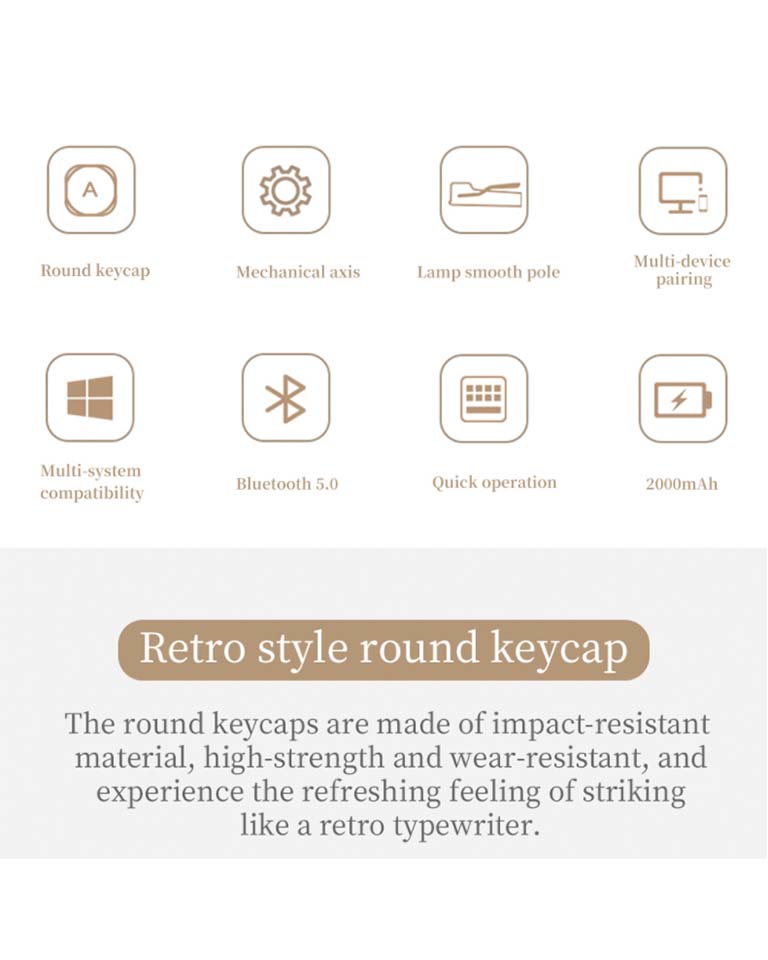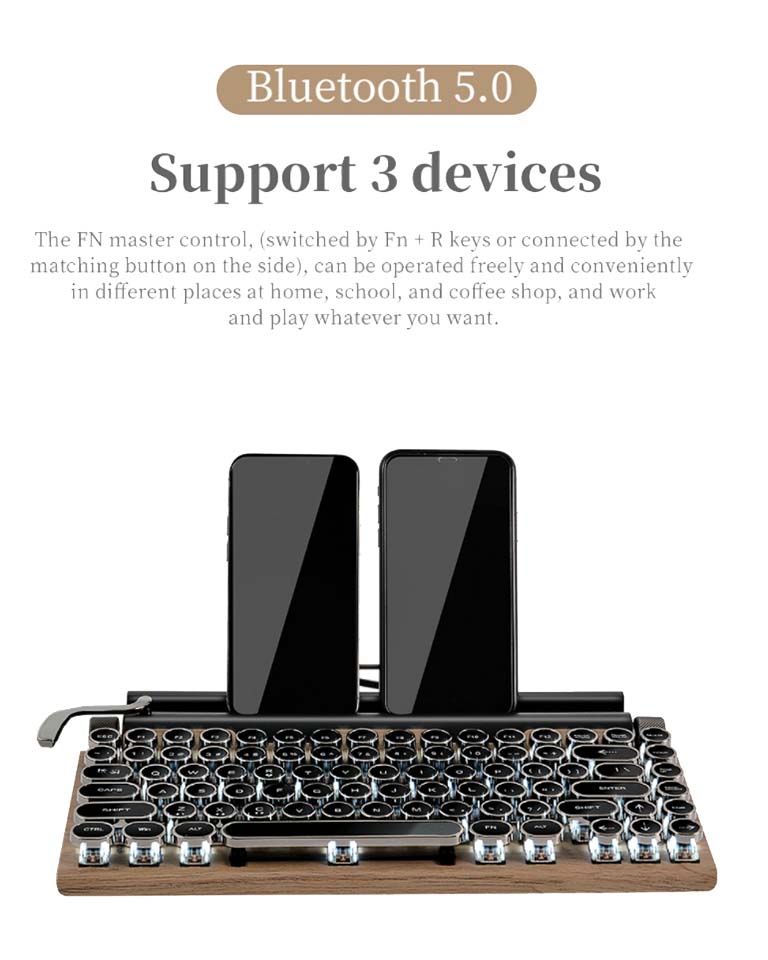 Features
Specifications
Reviews
Everything That's Included
Each item comes with 1 x keyboard, 1 x instruction booklet, 1 x USB cable. We also offer fast customer service within 24 hours, 30-day hassle-free return policy and a 1-year international warranty.
Product Specifications
Can support up to 3 devices via bluetooth simultaneously
Switch between wired or wireless functionality
Black in colour
Dimensions: 31 x 17 x 3 cm
Weight: 730g

Number of keys: 83
Customer Reviews
Write a Review
Ask a Question
Enjoy using this keyboard/Great Customer Service
I bought this keyboard because of the way it looked and the description that is sounded and felt like using an old typewriter. I love the way it looks and the way it sounds. You are able to change the way the keys light up or turn the lights off entirely. It can be used by connecting directly to your computer/laptop or via bluetooth. The same connection is used to charge the battery for use when it is not connected directly to your computer.
Love this keybaord
I had been looking for a retro typewriter style keyboard that didnt cost an arm and a leg for a while, after much research I finally found it. This keyboard has the look and feel of an old fashioned typewriter and I absolutely love the way the keys type and feel, it even has the perfect typewriter key sound. The Bluetooth connectivity was flawless and I was able to immediately start using it with my Microsoft surface. The tablet sits perfectly on top of the carriage area and makes typing on the tablet so easy and comfortable. The lights on the keyboard have several options of on/off or various color combinations. Its exactly what I was looking for. Definitely worth it!!!
Such a fun way to type!
typing this review on the keyboard now. Wow. Im a tactile person, and I love the clicks and sounds of the keyboard! using it on my Surface Tablet, and also my Surface Duo. The keyboard came with a USB cord. At first, I was slightly disppointed, because I thought it was bluetooth, cuz, you know, 21st century. But then, hello. Instructions. Written in perfect English, I was able to quickly get the gist of what the instructions were conveying. It is bluetooth, with a usb, hardwire option! Very nice. One very small quibble: My Surface tablet is a bit too heavy for the keyboard when mounted on it. It tilts backwards. I've had to place a foam piece, conveniently included in the packaging, behind the Surface to keep it from tilting. However, with the bluetooth, the mounting is optional. I just settled the keyboard on my lap, and left the Surface tablet on the countertop. It also works perfectly with my Surface Duo. such a fun way to type! Super happy with this fun little purchase :)
Absolutely Love it
I could do without the rainbow colors that light up the keyboard as you type, but after a couple of months of using the keyboard, I have gotten used to them and they are not as distracting as they were at first. You can turn off the lights completely, or choose a different lighting program by tapping the 'return bar' on the top left. The return bar looks like it did on the old typewriters, except its only function is to control the lights. The knobs on the sides, where once they scrolled your paper up or down, are now used for volume control (right side) and dimmer for the lights (left side). The Keyboard itself has the steampunk feel with the keys and it does include all of the keys we have become accustomed to on our laptop/computer keyboards. The keyboard syncs easily to my laptop, iPad, and phone. The charge holds for several weeks and I use my keyboard exclusively every day for several hours each day. You get a pop-up message letting you know that your keyboard has x% left and needs to be charged soon. You can still use the keyboard while it is charging and there are indicator lights that let you know when it is fully charged. This keyboard is fun to use and really makes me want to write more. The sounds are reminiscent of the old manual typewriters, and because those typewriters are now so expensive, not to mention with keys that are difficult to push down, this is a great alternative for the same feel electronically. In over 2 months of use, I have not had any negative experiences. Absolutely love this keyboard and recommend it!
Retro typewriter for sure!
I absolutely LOVE this typewriter keyboard. Gives me the satisfaction of the clicking sound from my childhood typewriter and the ability to bring it everywhere and it comes with nice carrying bag that lets you storage the keyboard in the bag, laptop to connect it to (if you want to bring that everywhere), and enough to bring documents that you need to have typed out. I would recommend this to anyone looking for a typewriter but doesn't want the hassle of need whiteout for making typos
Free shipping
FREE shipping on all orders over $99
Aussie Owned
All our products are proudly designed in Sydney
Worldwide Shipping
All orders shipped globally with tracking details
Secure Payment
Safe and secure checkout with SSL