270W Zeus USB-C GaN Charger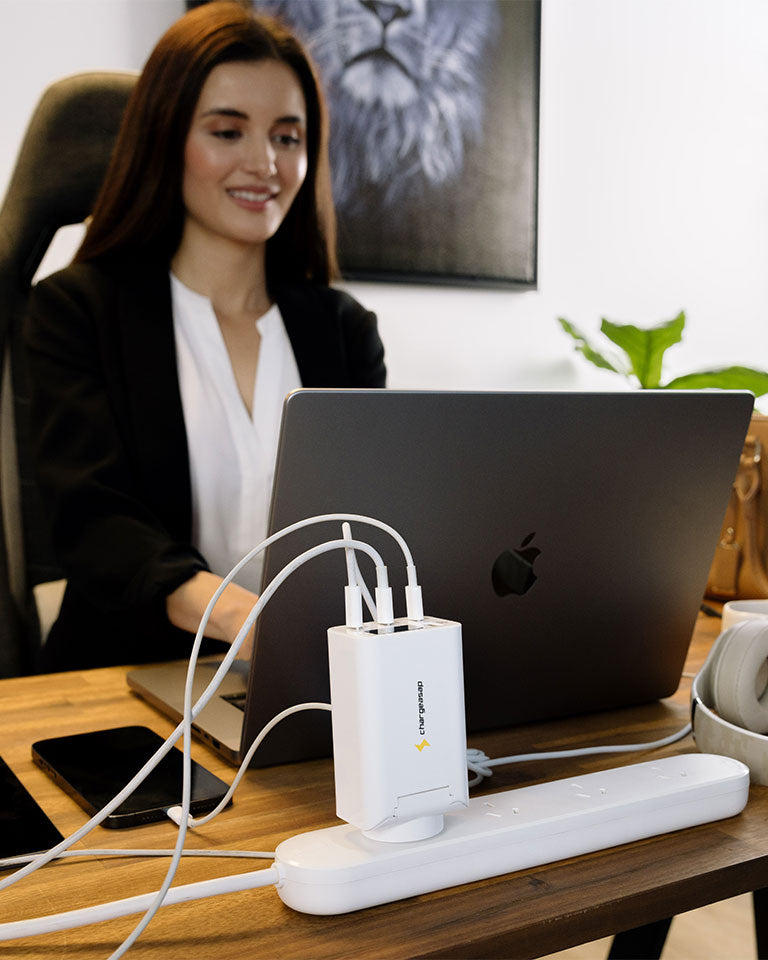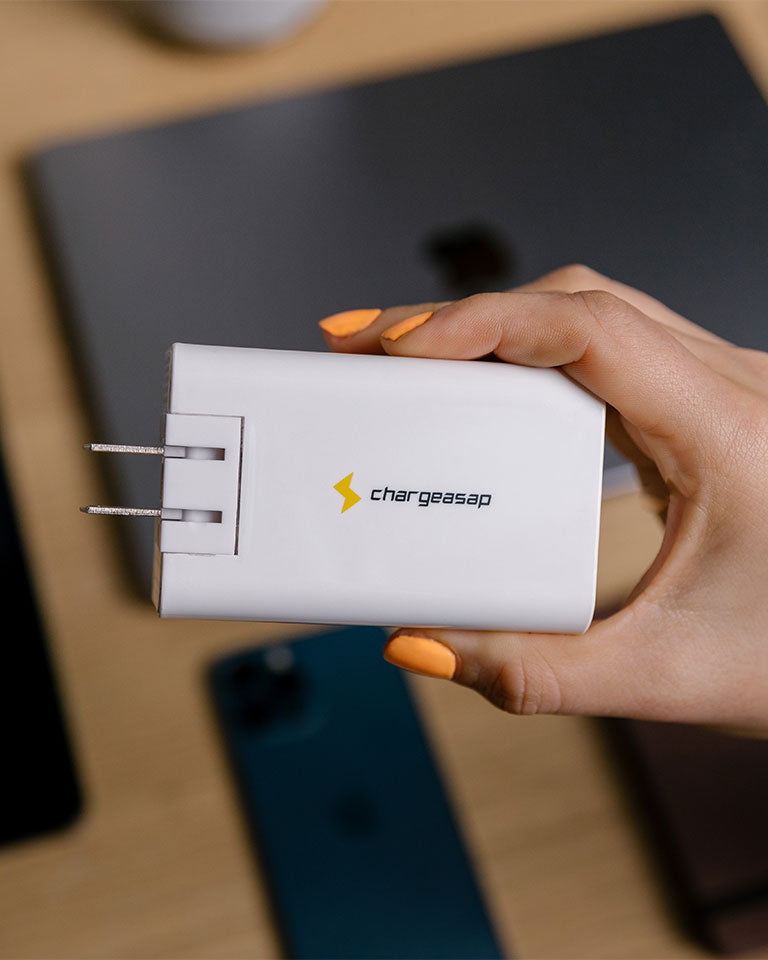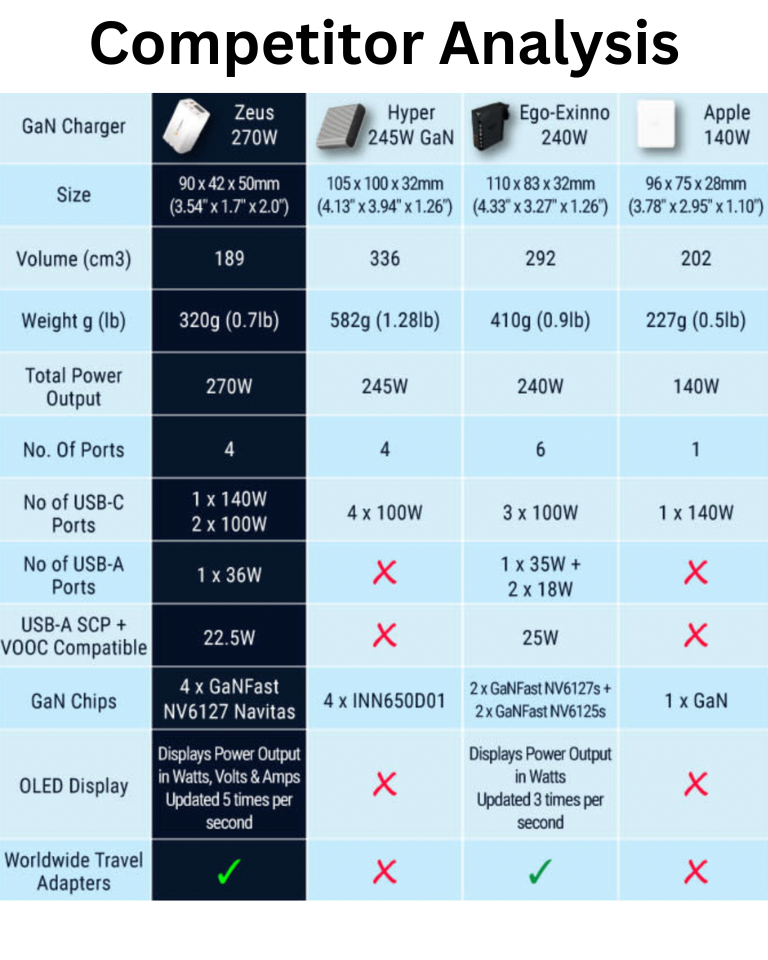 Features
Specifications
Reviews
Everything That's Included
Each purchase comes with 1 x 270W Zeus + 4 x travel adapters (US, EU, UK, AU), 1 x pouch and instruction booklet. We also offer fast customer service within 24 hours, 30-day hassle-free return policy and 1-year international warranty. 

Product Specifications
Product Dimensions: 90 x 42 x 50mm/3.54" x 2.17" x 1.96"
Product Weight: 320g / (0.7lb)
Power Input: 100-240V ~ 50-60Hz 3A
Max Power Output: 270W
Ports: 3 x USB-C and 1 x USB-A
140W USB-C1: 5~15V

⎓

3A / 20~28V

⎓

5A (PPS: 5~21V

⎓

5A) (PPS/PD3.1/PD3.0/PD2.0/QC4/QC3.0/QC2.0/AFC/FCP/SCP/PE2.0/PE1.1/SFCP)
100W USB-C2: 5~15V

⎓

3A / 20V

⎓

5A (PPS: 3.3~21V

⎓

5A)
100W USB-C3: 5~15V

⎓

3A / 20V

⎓

5A (PPS: 3.3~21V

⎓

5A)
36W USB-A1:4.5

⎓

5A / 5V

⎓

~4.5A / 5V

⎓

3A / 9V

⎓

3A / 12V

⎓

3A (QC3.0) SCP, VOOC (22.5W)
Device Operating Temperature: -10ºC to 75ºC
Enclosure: PC
Protection: Over-current, Over-voltage, Over-temperature, Short-circuit Protection
Power Distribution 
C1 = 140W
C2 or C3 = 100W
A1 = 36W 
C1 + C2 or C3 = 140W + 100W
C1 + C2 + C3 = 140W + 65W + 65W
C1 + A1 = 140W + 36W
C1 + C2 or C3 + A1 = 140W + 65W + 36W
4 ports used simultaneously: 140W + 65W + 12W + 12W

Our 270W Zeus has a

 

laptop-first power distribution

 which means the C1 port will also be prioritised at 140W to ensure your laptop will always charge as fast as possible and not be interupted by devices being plugged or unplugged
Customer Reviews
Write a Review
Ask a Question
12/08/2023
Gordon T.

Singapore
270W Zeus USB-C GaN Charger
Like the compact size and the display. Suitable for traveling.
12/07/2023
Šenaj L.

Germany
the last charger you will ever need
to name it "perfect" is not enough. It replaced three bulky chargers for me: Laptop, iphones and watch - all in one device half of the size of one of the other chargers.. fast and powerful
12/06/2023
Izell S.

United States
Missing Adpaters
I did not receive the UK and US 110V Cord w adapter in my order.
12/02/2023
Mike W.

United Kingdom
Disappointed
Poor - hasn't arrived yet
11/21/2023
Mark-Anthony W.

United States
270W Zeus USB-C GaN Charge
I recently enjoyed using the Zeus 270W GaN USB-C Charger during my travels, and it exceeded all my expectations. The charger worked flawlessly in my hotel room, fast charging all my devices, including my iPhone 15 Pro Max. It allowed me to charge multiple devices simultaneously without any issues. However, what impressed me the most was how well it performed on the job site. When my laptop battery was running low, I was starting to worry that I wouldn't be able to finish my work on time. Fortunately, the Zeus 270W GaN USB-C Charger came to the rescue. It provided enough power to keep me going, allowing me to complete my work on time and without interruptions. This charger is a must-have for anyone who needs a reliable and efficient power supply for their devices. The Zeus 270W GaN USB-C Charger proved to be a lifesaver for me, and I'm sure it will also be for others.

Next Product
Free shipping
FREE shipping on all orders over $99
Aussie Owned
All our products are proudly designed in Sydney
Worldwide Shipping
All orders shipped globally with tracking details
Secure Payment
Safe and secure checkout with SSL